AMW NEWS
Zu allererst muss ich um Verzeihung bitten, der AMW Mailer hat vergangene Woche etwas verrückt gespielt und die Meldung mehrere Tage hindurch widerholt versendet. Das Problem ist identifiziert und behoben.
H0 Decoder AMW_40
Dieser Decoder soll preissensiblen Modellbahnern den Zugang zu guten Fahreigenschaften bieten. Der Decoder ist eine Neukonstruktion baut auf den Entwicklungen von cT Elektronik auf. Konstruktionsziel waren hervorragende Fahreigenschaften, Programmierbarkeit nach DCC Vorgaben, 4 Funktionsausgänge und ein möglichst attraktiver Preis. Weniger oft nachgefragten Features weggelassen, die wichtigen Decodereigenschaften alle komplett implementiert. Für den digital interessierten Modellbahner wurden sehr wohl Stand der Technik Eigenschaften wie HLU Geschwindigkeitslimits, Anhalten bei asymmetrischem DCC Signal und Vorbereitung für BiDi, implementiert

Der Decoder wird mit Drähten ohne Stecker, in 5-er Packungen geliefert. Zur Einführung des Decoders im Frühjahr 2007 steht auch Einzelstückverpakungen zur Verfügung.
Weitere Informationen und Anleitung als PDF am AMW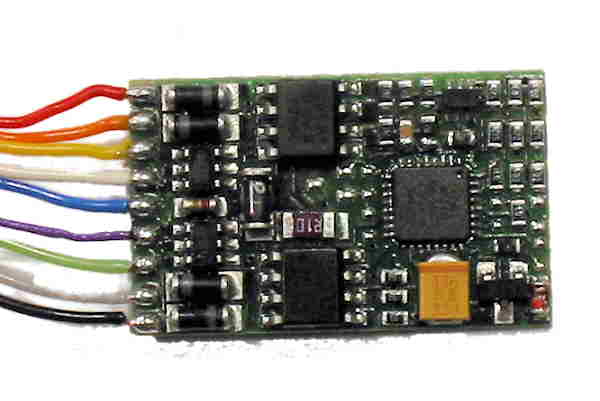 Um diese Verteilerliste zu verlassen senden Sie ein formloses mail an office@huebsch.at
---
Fist of all I have to apologize, this mailer was going mad last week. It has sent out the dame message over and over again. The problem was identified and is fixed now.
H0 Decoder AMW_40
This decoder addresses price sensible model railroaders, who whish access to good quality, especially driving features. The decoder is a new design based on previous cT Elektronik stuff. The goal was to have top of the edge driving features, programming according to DCC specs, 4 function outputs and a extremely attractive price. This caused to leave of less often requested features. For the interested digital model railroader important features like HLU speed limits, stop on asymmetric DCC and preparation for BiDi is implemented.

The decoder ships with wires, in a box of 5 units. During the startup phase in spring 2007 there are also single packaged decoders available.
More information and documentation is available on the procuct page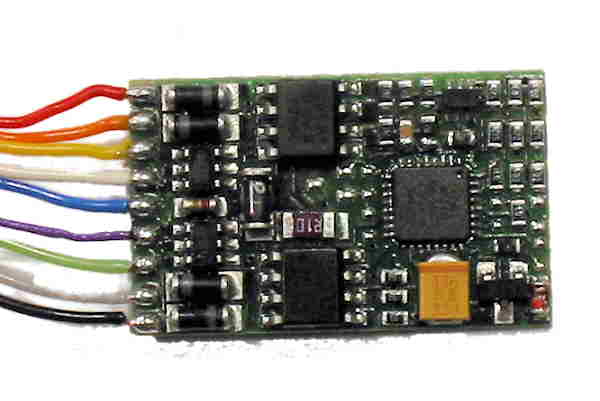 To leave this DL just send a simple mail to office@huebsch.at