AMW NEWS
Analog Decoder Blindstecker NEM651
Diese Adapterplatine ersetzt die üblichen Decoder Blindstecker. Durch die 2 Zenerdioden wird eine konstante Spannung am Lampenausgang erzeugt. Das schützt Leuchtmittel mit niedriger Betriebsspannung und erlaubt einen Konstantlicht Betrieb weitgehend unabhängig von der Fahrspannung. Das Licht beginnt üblicherweise bei etwa 3-4V Gleisspannung zu leuchten.
Händleranfragen willkommen!

Bestellen Sie im WEB Shop

Anleitung zur Platine als PDF Download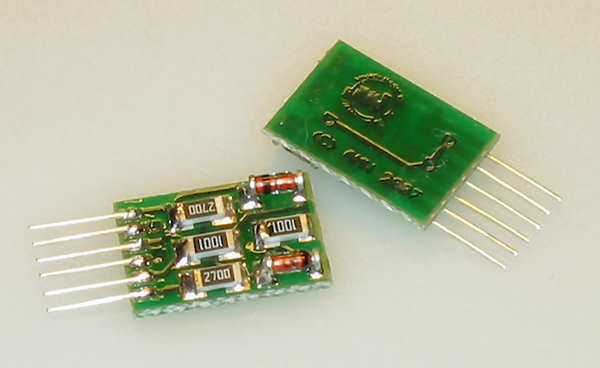 Um diese Verteilerliste zu verlassen senden Sie ein formloses Mail an office@huebsch.at
---
This announcement addresses again [G]-Scale interests. I prepare similar products for N and HO scale which I plan to release shortly.
Analog Decoder Dummy board for NEM 651
This adapter replaces the usual dummy boards for NEM651 plugs. The 2 zener diodes generate a fixed voltage and protect low voltage light devices like LEDs or 1,2V bulbs. This allows powering those light device independent from the track voltage (speed). Light usually starts shining at 3-4V track voltage.
Reseller inquiries welcome!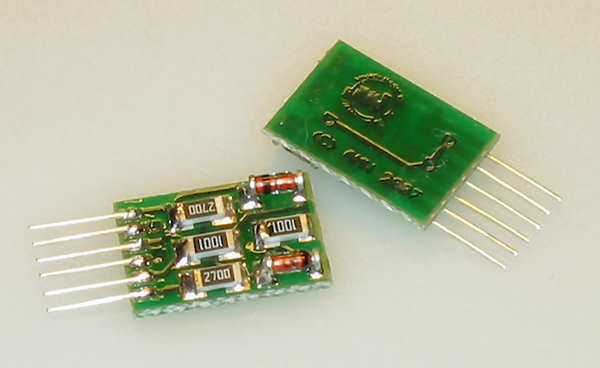 order directly at my WEB Shop

User's Guide for this board as PDF download
To leave this DL just send a simple mail to office@huebsch.at